After a LOT of Waiting?
Posted by Loren on Apr 28, 2009
I GOT IN!
My god, I got in. It's really really hard for me to believe.
After all of this [it really doesn't seem like much with these few entries, but mind you, this was months of waiting and stressing], I actually got in.
Today, I came home and there was a package for me from YFU. Brenda and my dad were both really excited for me, and as I opened it, my dad had his camera out and taking pictures. [hence the awkward one placed conveniently below]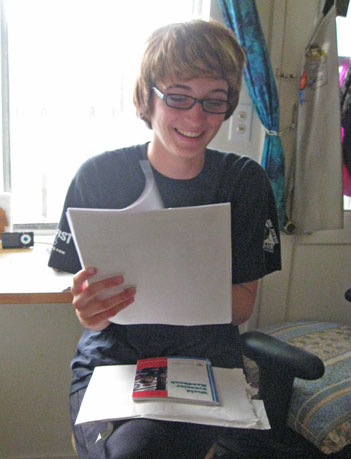 The news is still too much for me to handle. To be completely truthful, I don't believe it's true. It's pretty difficult to comprehend that this summer I'll be going to JAPAN.
Not that I know where or anything.
Oh, did I mention that? They don't tell you where you're going to go.
I have no clue when I'm going to find out.
BUT, there is … some sort of an orientation coming up? Yeah, in a few weeks.