D A M N.
Posted by Loren on Jul 18, 2009
TODAY. Today has been absolutely insane. But it's been super super wonderful.
I'm SO TIRED. So I just hope I don't forget anything … I'll be doing some lengthy bulleting.
Woke up [with some effort] and had breakfast.
Walked to school. I love walking to school; when the cars stop passing, you can hear the trees. And when it's raining, you can hear the water falling through the leaves.
Was a little late, I think.
I put my stuff up on the 4th floor, then came back down to 3rd to test out Kowai Desuyo [the haunted house] with Irina. WHICH WAS SCARY. [Below – Kanari, Sarah, and I.]

We did SHR [short home room], and figured out when Iri and I were supposed to go to wherever. The two of us wandered till around 10:30, when I went to Juusu Desuyo [the juice bar] to help out, and she went to Kowai Desuyo.
It was really fun; I absolutely loved serving the juice ~ ! Well, technically, there was no juice. It was cider [a Japanese soda. It's got no particular flavor, but it's super super bubbly and sweet], coffee, and "straight tea" [supposed to be just tea, but it's really sweet.] and then you choose a type of "jeri" [jello] to go in the drink – lemon, coffee, strawberry, or orange. It sounds gross, but it's actually really good. Maybe I'm just turning Japanese … [insert song reference here]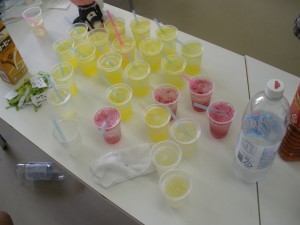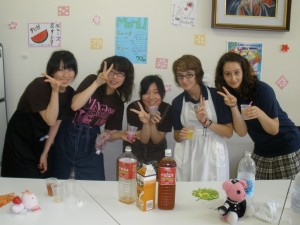 The left over drinks, and all of us at Juusu Desu ♥
Anyway, I did the cider pouring, and Sarah [the French ryuugakuse]  did the straw-putting until around 1 p.m., when Sarah forced me to get food, haha. We also went shopping real fast in a gift shop and this little back for 7 bucks. But I lost the bag …
ANYWAY, back to bulleting.
Didn't do very much more before cleaning up … ate, helped some more, then went upstairs for a quick video-interview because someone told me and Sarah to. It was only one question [basically, "what do you think about this school?" – or really, just say something nice aboud seishin …] ann~nd … went to find out if the ghost house needed any help, but they didn't, so Sarah, me, and Mr. Bouchard went to see the chorus [but missed them :<] and I ended up videotaping some of the play instead
Eventually, it was time to clean up. That involved a lot of desk moving/walking up and down four floors [3rd to basement] with loads of cardboard and trash … I was [and still am] totally exhausted, but it was still tons of fun.
Finally, we had the closing ceremony, which included a short speech from the principal, then the awards, then a slideshow and a speech from two weepy almost-graduates [seniors]
The awards were AMAZING. Our two second-year classes put together won the majority of things. I got some of it on video, too! <3
I can't believe next week here is my last … I love it here too much. :c It's going to be really hard to leave … D:
Oh well. I'm just happy I got to come here at all.
<3
I AM SO SLEEPING IN TOMORROW.