BOO! Obake Yashiki!
Posted by Loren on Jul 16, 2009
It's interesting … everything's different at my house just because the kids' piano teacher came over.
This morning I had to clean up my room, and when I came home, I couldn't go into it because she was teaching, not even to put my stuff away … [the piano is in my room, remember?] The curtains were open, and the toilet paper was folded in a little triangle thing, like in hotels.
Anyway, I can't go into my room again because it's Mayu's practice. Speaking of practice, I really want to play violin and guitar! D: I miss my instruments.
Okay, on to school.
Let's see! Last night I finished my poster, so after lunch and spending the whole day in the library, and helping with some of the moving/setting up, we put up posters ~ ! But they already did mine, so I just added more to it.
Ahhh, crap. I just realized I left my sketchpads in the International room. :c I hope no one looks in them!
Anyway, people don't steal so much in Japan; it's not like America, so I'm not so worried.
The obake yashiki [Haunted Mansion] is coming along pretty well, and it's going to be totally awesome when it's finished, but there's still a lot of work to do …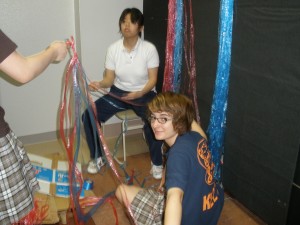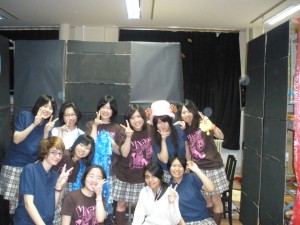 Helping out at the obake yashiki.
Anyway, night!