Onsens = Babysitting?
Posted by Loren on Jun 20, 2009
I haven't written for a while because I forgot to when I was at the onsen with the Watanabe family.
Speaking of the onsen … it was a pretty strange experience. There's something about it, especially your first time, that isn't quite describable [haha]. It felt rather unreal, everything put together. Somehow, it was as if simultaneously I was being stared at/glared at while I was there. A majority of the people were older, so I'm sure some of them don't really like Americans. On top of that, there's often a lot of dislike for foreigners in general. But at the same time … most people had the common courtesy not to look or stare. Like I said, most of the women there were older, anyway. So I guess maybe that just adds to my not fitting in? Being a minority for the first time has really been a peculiar experience.
SO. I went with Mrs. Watanabe [Sumie], her daughter Shion [age 6], and her two friends – Kyoka [7] and Anna [7]. Arghh, they're adorable, but damn LOUD. They gave me a pretty gnarly headache, to be honest.
The whole thing was just a really interesting experience.
When we got there, I went in, paid to be allowed into the bathing area, put my shoes in a locker, then went into the place for girls and women.
There, you get changed and put your clothes and things in a basket. There's a bathroom, and a place with hairdryers and such. After you've stripped, you go into the actual hot spring, and you go to a place where there's a line of stools and faucets and soap and shampoo, and you clean as if you were at home, then go out. There's cool pools, hot pools, warm pools, saunas, steam rooms, and both indoor and outdoor pools. Oh, and some places where water kinda falls from the ceiling. It's strange, but all so 気持ち![relaxing!]
The only downfall was having to watch the three girls a lot. They have too much energy for a place like that, haha.
It was nice, though; I'd love to go again [sans multiple little noisy girls? One or two is fine, though.] Afterwards, we went up and had dinner [I had miso ramen], then I got ice cream and we went home to Watanabe-san's house and stayed the night.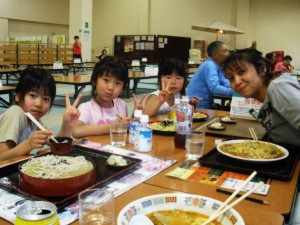 Having dinner after the onsen.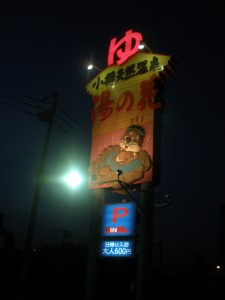 The onsen sign lit up at night.
OH! I forgot. Earlier that day, before the onsen, okaasan and I went to these two old, famous houses. They were pretty incredible. We had lunch at the Neuschloss Hotel, which was super-fancy. And why did they give a German name to a Japanese hotel when Japanese people can't even say ENGLISH words? Haha, I don't get it.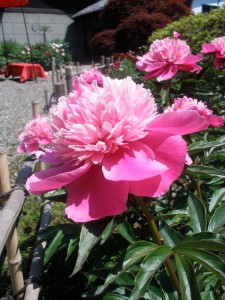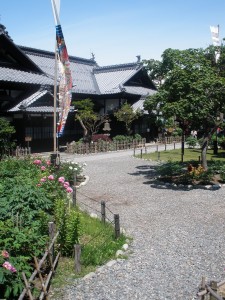 The first house and it's gorgeous garden.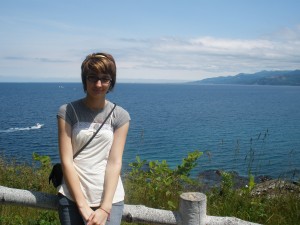 View from the second house.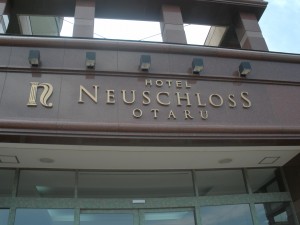 The Neuschloss Hotel.
Anyway, on to today. I met a girl named Yuri, who exchanged to Maryland with YFU for a year. She's pretty much fluent in English, which was nice. We got to spend time at the mall after eating lunch with okaasan. It's sad that I probably won't see Yuri until the YFU Summer Activities later on in my stay … but at least I get to see her again!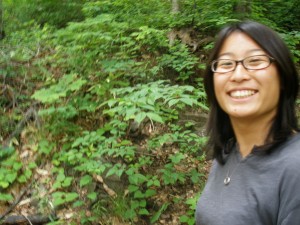 Yuri-chan ~ !
… it's strange to think I've only been here a week. The Ueno family feels like my family, and this house feels like home. I actually found out today that after the Kondo family, I'm going to have ANOTHER family [Noruma? Nomura? Not sure]. I was kinda sad that I'm going to be ping-ponged around, but then I found it to be terribly ironic, and … well, funny. Because this is pretty much how it is at home.
Oh irony ~
Anyway, I started crying at dinner, and my okaasan got confused, thinking it was the food, haha. She was so relieved when she found out that it was just that I'm changing to a different family tomorrow. They even made fun of me … Ahh, family. <3
AHHH I CAN'T WAIT TO GET RID OF MY GIFTS. My suitcase is so heavy, and it's getting full with the stuff from the 100 円 shops.
God, the only thing that sucks [other than the packing and unpacking and repacking] is ALL OF THESE GOODBYES. I hate saying goodbye.
… goodbye! [haha, shoot me.]