English Lessons
Posted by Loren on Jun 29, 2009
Andy [Yuika and Yuuma's private English teacher] came today, seeing as it's Monday.
When we were playing board games after their lesson, Andy and I started talking about traveling and my plans for the future.
He encouraged me to volunteer as much as possible, especially in other countries. When I told him I wanted to go abroad for a year after high school, he said that instead, I should just work and save up for 6 months, then take a plane somewhere, a backpack as my only baggage, and just explore. I think that sounds absolutely incredible.
If I do this, while I'm working, I can take classes at my local junior college! … that would be AH. MAY. ZING.
After that trip, I would go to college, get my degrees, and then maybe apply to the JET program [Japan Exchange and Teaching Program], and teach in Japan for a while. Andy said it's really easy and fun, and everyone I've met so far says they've enjoyed it.
After the JET program, I think I'd consider joining the Foreign Service. If I got in, I'd do that for a while, then maybe eventually settle down where I feel most at home, and do what I love most.
Mind you, before I came to Japan, I didn't think of ANY of this.
ON ANOTHER NOTE, here are some of my classmates: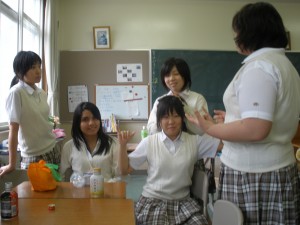 From left to right: Mariko, Irina, Touko [above], Hikari [below], and Komori. ♥