Kiro Kumi! [Go Bananas!]
Posted by Loren on Jun 8, 2009
Today has been interesting. More long than anything, though I'm excited for the orientation to be over, honestly. I mean, there are some things I'm excited about. The activities here are pretty fun, but sometimes they get repetitive. It's all stuff I know already, basic culture differences and stuff to be prepared for, and I'm aware that there are people that know nothing about Japanese culture here, but it's just pretty boring for me.
But we do so much that it still ends up being exhausting, haha.
It feels like at the end of all of this, though, everyone will just be like: "Oh, we were just kidding, you can all go home now." Which would suck. But I don't think it's going to happen … it just seems that way. You know?
Well, unless you've done this, you probably don't know.
ANYWAY.
I'll just see how the rest of orientation goes.
Anyway, the people I've met so far have been pretty interesting. Our night walk around San Jose Campus was pretty epic, I have to admit. I totally want to jump in that fountain tomorrow.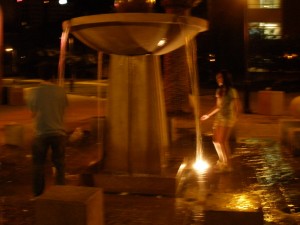 Caden and Skylar, ahahaha. Good times.
Hopefully we'll all be on one plane.
P.S. KIRO KUMI ALL THE WAY! [go bananas ~ !]