YFU Summer Activities!
Posted by Loren on Jul 12, 2009
Yesterday was pretty uneventful – just ran errands with okaasan, and ate SHUYU [soy sauce] RAMEN and GYOZA [potstickers] ~ ! <3 So yummy.
Today I woke up at 8:30 a.m., and Kana, Taiga, and okaasan and I went to the YFU Summer Activities. It was way more than fun ~ !  I loved it.
I got to see almost everyone from before – my first host mom, the Watanabe family, Yuri-chan, and all of the host students from Hokkaido, I believe.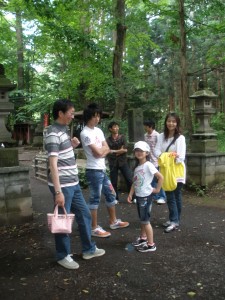 The Watanabe family!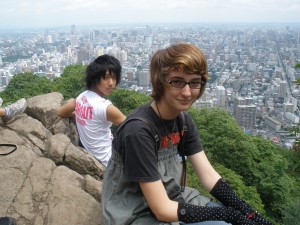 They were all nice, and it was really really fun. We hiked up Maruyama [Circle Mountain]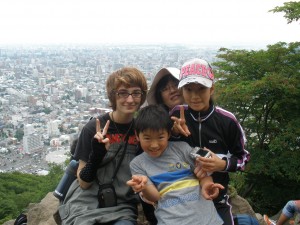 from the top of Maruyama
then went down and had fresh mochi [rice dough?],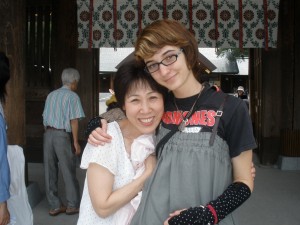 Me with my first host mom ♥
Then went to a community center and ate obentous [lunch boxes], and played games.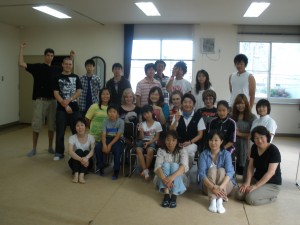 Everyone at the community center.
After all of that, some of us went to Starbucks, and one of the YFU Alumni bought us drinks.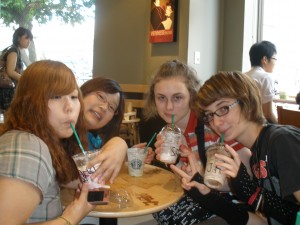 At Starbucks. ♥
After some mixup, we managed to get to the place where my okaasan was picking me up [Tutu, said "ChuChu" haha.], and I had to say goodbye to Yuri-chan and friends. I'm pretty sick of saying goodbyes … but at least I have all these awesome friends, now!
Later, the whole family [Nomura] and I went out to Book-Off, a book store where everything is like, under 3 dollars. <3 I bought 16 manga, and spent only 22 dollars for them! My host family thinks I'm this crazy otaku [anime geek] now, haha.
After, we went to Jasco and ate OKONOMIYAKIIIII ~ ! <3 It was delicious, and we're planning on going to Jasco to shop before I leave.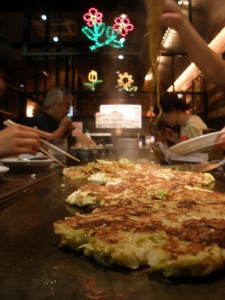 Cooking the okonomiyaki. ♥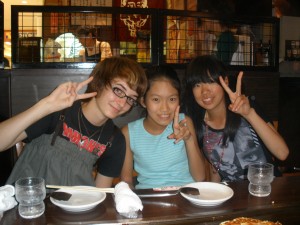 Me, Kana, and Mayu
We're also planning on watching the new Harry Potter next week ~ !
I'm totally happy here; I really don't want to leave.