Shopping At Jasco, Eh?
Posted by Loren on Jul 8, 2009
Ahh, today's been pretty fun and interesting. I finished three out of four of my posters for the juice bar ["Juusu Desuyo"] during all the library periods we had today.
Japanese class was fun, as we spent most of it having a conversation with one of the sisters. Mr. Bouchard helped us a lot, haha. He was talking to Sarah in French, which made me jealous … I wish I knew more than English and some Japanese. D:
Anyway! Today, Irina and I went to Jasco to shop. It was really fun, but we only had 2 hours and we were trying not to spend money, haha.
I ended up buying a dress, and we ate at McDonalds [DAMNIT. I couldn't help it. I don't even eat it in America!]. After, I bought a crepe [they're super super popular in Japan. They have crepe stands, like, everywhere.], which was delicious. And we did PURIKURA ~ ! <3 It was my first time doing Purikura. [Purikura is pretty much just taking pictures in a photobooth, the decorating them with a computer. SO MUCH FUN. And cheap. Only 4 dollars.]
Anyway, I got home, then Takuma got back from work, and they ate dinner. [RAMEN! WHY!? I'm so mad at myself for eating Micky D's. BUT ALL I COULD EAT FOR LUNCH WAS 2 ONIGIRI – riceballs … because it's a school thing. Like, once a month.]
But after they ate, we had these Japanese traditional deserts. Little sugary things. <3 I had the pink sakura blossom shaped one, which had adzuki beans inside, and I made tea for me, Takuma, and Yuuma.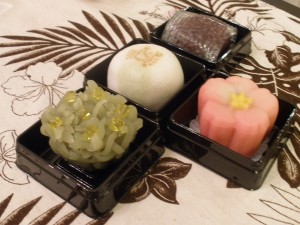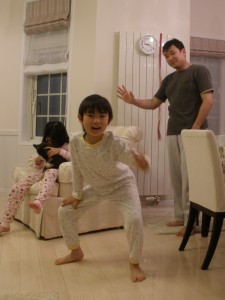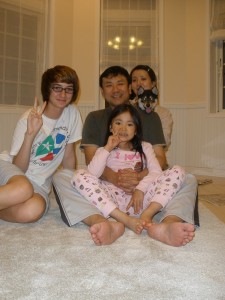 Also, Naoko bought me and my family four pairs of chopsticks [ohashi], which I peaked at, and are very pretty. <3
I can't wait to give everyone at home their presents.
Anyway, I'm off to sleep.