Calligraphy and Okashi
Posted by Loren on Jun 15, 2009
I'm writing midday this time because I'm alone [I guess they trust me with the house? Or at least not to burn it down.] and don't have a whole lot to do.
I woke up this morning to a very quiet household; probably due to it being an actual workday. Otousan and my host brother were both gone, so I went to see who WAS here. No surprise, okaasan was downstairs. I actually caught her completely absorbed in pro-wrestling [Japanese style] sitting in one of the two tatami rooms [the traditional room with the mats?]. I waited a little while, because she hadn't noticed me, then said: "Ohayo!" [Good morning!], and she kinda jumped a little, then turned and smiled big: "Ohayo Rori-chan ~ ! Shaawa o suru?" [Good morning Lori ~ ! Do you want to take a shower?] … SO, I took my shower, then had breakfast, which was some eggs, bread, milk, and ham. Ahh, it was totally delicious <3. Afterwards, I switched into Jennifer's room [who sadly left yesterday :c] and watched some Japanese television while my okaasan was cleaning. After, we went to pick up Tana [the Thai girl from yesterday] to go get a goldfish bowl for the remaining goldfish that she won yesterday at the matsuri.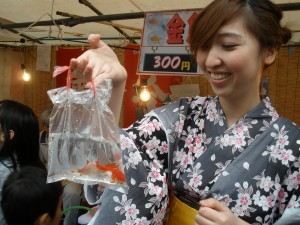 After, we met up with one of okaasan's friends, named Alice, who owns a beauty salon. We went and had soba noodles [not my favourite], and during the conversation, Alice offered to cut/dye my hair or do my nails/makeup for free while I'm here. I was excited because my hair is getting shaggy, but I wasn't sure if it would be rude or not to accept something like that. After we finished eating and got home [with a stop for castella cakes ~ !], I asked Ueno okaasan about it. I said I wanted to, but was it rude to accept? [with some help from my dictionary] AND, she said that basically it's fine, as long as we call first. Because, you know, Alice's salon is the biggest AND the best in Otaru. Haha.
Lucky me. <3
At lunch, we had this great confusing but fun and wonderful discussion about capitals/places in California and such. This involved some map-drawing and katakana writing on my part [both horrible].
Later, okaa is bringing me to her calligraphy class, I believe. Exciting ~ !
— A little past 10 pm —
So I drew for a couple of hours until my host brother came home, then took a nap. His obnoxious friends were back, so I ended up downstairs again and was hanging out with otousan until okaasan came home.
I helped her make dinner ["hamburger" with "sauce" and ketchup, cabbage with mayo miso, gyoza, macaroni salad, and rice], which was delicious. Like that's a surprise.
Afterwards, we went to the calligraphy class, which was very difficult. I painted hana [flower], getsu [moon], and bi [beautiful]. After multiple tries on all of them, I gave into temptation and started painting with the ink.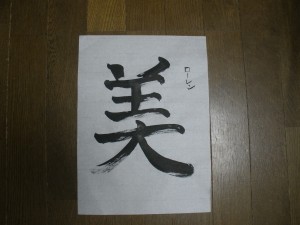 Says: Bi, or beautiful. Also, my name messily painted in katakana on the right.
Class was very fun, and everyone always has questions for me, haha.
It's quite interesting.
When we got home, okaa and I ended up walking down the matsuri and buying okashi [snacks] – more castella cakes, some ichigo daifuku, and chestnuts. Brenda would be jealous.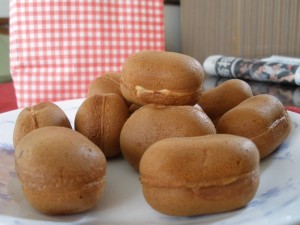 Castella cakes – just like little mini cakes. They're really quite delicious; the ones I had had nothing inside of them, but they're so sweet and yummy.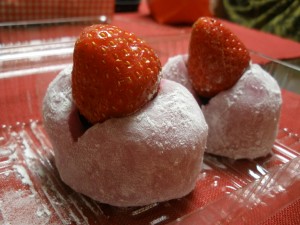 Daifuku – a Japanese sweet. It's basically mochi – rice dough; it's chewy and yummy – with red beans inside. These are special because they have ichigo, or strawberries.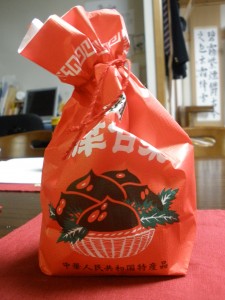 Chestnuts – all warm and fresh.
It's so strange to think that these people aren't my family, or even my HOST family at that.
I'm learning and changing so much everyday.